For almost a year it's been rumored that an iPad mini was in the works. On October 23rd, 2012 the 7.9-inch iPad mini was finally announced at one of Apple's coveted press events. However, many are skeptical of this device as the late Steve Jobs told financial analysts two years ago that such a product would fail in the market and even referred to competitors of the same size as "tweeners" (stuck between a phone and tablet). Though the iPad mini only started shipping to the public just a few days ago the reviews have been pouring in since it was announced. So the question remains, was the iPad mini really worth the wait?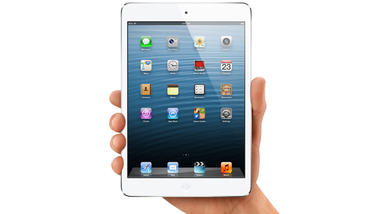 Resolution
Though Apple has marketed newer models of the iPad as "resolutionary," critics have claimed that the iPad mini, though still high in resolution (having a display of 1024 x 768 pixels), does not compare to the quality resolution of the larger iPad's already in the market (2048 x 1536 pixels in the 10-inch version). This noticeable quality difference between devices has many up in arms. However, rest assured that the mini still has a very high quality display, it's just not as great as its sister products.
Weight
Weighing almost half the weight of the 10-inch iPad, the mini weighs in at a little over half a pound. For years it has been argued that Apple products are heavy and weigh consumers down. The mini will alleviate this issue, as it is light in weight and slim (only 7.2 millimeters thick).
New Lightning connector
A controversy not limited to the mini is that concerning Apple's new Lightning Connector. This new cord was initially introduced with the release of the iPhone 5 and has since been included in all new Apple products. The new connector takes away the ease of having one charger universally work on all Apple products. Many users are arguing that this is simply a ploy for Apple to make a profit, as it requires consumers to purchase an adapter to charge their older Apple products. This adapter is available in the Apple store, but of course purchasing one will cost you.
However, those who have used the cord and gotten used to it argue that its smaller size is rather convenient. In the past Apple users have complained that chargers heat up and cause discomfort; not to mention making users fearful of products overheating, or even scared that they will start fires. Conversely, the Lightning connector can safely use up to 12 watts (at least) before any heat issues arise.
Cost
To many Apple fanatics the mini's $329 price tag is more "affordable" than its predecessors (larger new iPad's with 16GB of storage and only wi-fi start at $499, not including Apple Care). However, to the average consumer this is still steep in price in comparison to the competition. To put it into perspective Google's Nexus 7 and Amazon's Kindle line start at just $199 and are very similar in size and, for the most part, capability.
Now, we're still unsure about how we feel about the iPad mini and if it is worth the rather large price tag in comparison to the current competition (and don't forget more are sure to surface before the holiday season ends). For the time being we think that sticking with the 10-inch iPad, and even opting for a refurbished model (3rd generation 16 GB Wi-Fi iPads were selling in the Apple store for as low as $379 last week), might be a better investment…at least for now.