Your website is the first, and potentially only, interaction a given consumer will have with your business and/or brand. In today's ever-growing digital world it's imperative to your business's success that you make your website responsive. What does this mean exactly? Well, it means that with the vast amount of technology around the world today having a website that can function on multiple digital platforms is a must. Below are two reasons for why this is so important in today's market.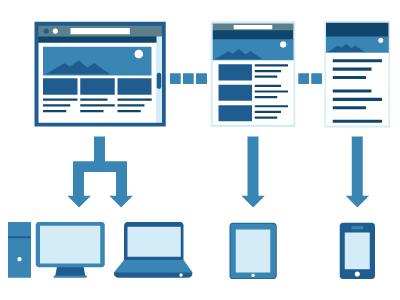 Keeps you relevant and visible
First, and most importantly, designing a website that functions properly on a laptop, tablet, and mobile device allows you to stay relevant in the marketplace. Individuals now rely on mobile devices and tablets predominately to occupy them when they are on the go. Thus, making sure that your website functions appropriately on these platforms will ensure that consumers are always able to reach you for any wants or needs. All it takes is one time for someone to try and access your site to no avail to forever deter them from your business/product(s).
Saves you money
Secondly, design your website to fit on all platforms if for no other reason than to save you money. For instance, if you design a website at the same size as the iPad you will save yourself time and money when bringing your site live. If you require resizing and designing a site according to platform you are virtually asking for a complete redesign and layout. This can be very expensive. Not only does this trick save you money and time but it also makes navigating your site easier for visitors as you don't have to readjust to a new design depending on what device you are using.