As of the writing of this blog, about half of the mobile phones owned in the US are smartphones. For those who believed the smartphone revolution to be just hype, this new statistic should cause them to rethink. According to the latest figures from Nelson, 49.9 percent of mobile owners had smartphones as of February 2012. This statistic is up considerably from last year's February count of only 36%. Statistics from this same group say that 2/3 of the new phone buyers chose smart phones over feature phones in the past three months. If smart phones continue to grow at this rate, predictions are smart phones will account for 70% of all US mobile phones this time next year.
Why is this important? The graph shows this answer clearly; smartphones are on the rise, and feature phones are on their way out.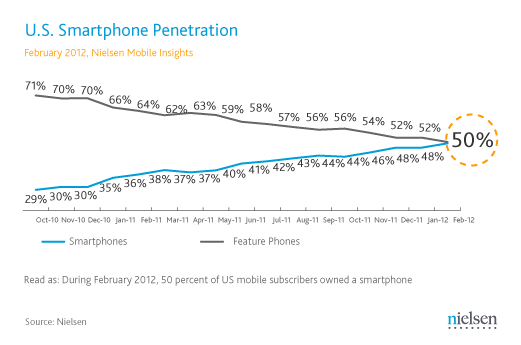 How do these smartphone figures break down?
– 48 percent have an Android handset,
– 32 percent have an iPhone,
– 12 percent have a BlackBerry
What are the figures for those buying phones?
-48 percent going for Android,
-43 percent for the iPhone,
-5 percent are opting for BlackBerry
Where is MS Windows phone in all this? Some predictors say they will be breaking out of Nielsen's "Other" category and gaining significant market share in the coming year.