The newest trend in business seems to be to become an entrepreneur and create a startup company. However, creating a successful startup business isn't easy and often comes with many challenges and ridicule. This is in part because statistically startups are destined to fail as only 20% usually stay in business past five years. The startups that have come out triumphant in this trying economy are those that have taken the necessary steps to ensure that they come out on top. Below are, in our opinion, the 3 most important things to remember when embarking on your startup business.
Decide what your #1 business goal is and stick to it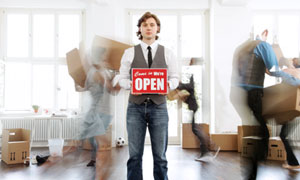 Often new businesses take on too many goals. They want to be the best at everything and realistically for a startup this usually is just not feasible. When you're starting your business decide what your sole purpose and goal is. Once you have this decided create a cohesive business plan around that one goal. As your business grows you can then decide whether you want to take on different business opportunities, but definitely wait until you are an established company to do so. Taking on too much at once is a recipe for disaster.
Hire only the most passionate and driven individuals
The key to a successful startup is surrounding yourself with the best, brightest, and most passionate employees. Today's marketplace is incredibly competitive so finding ideal candidates should not be too difficult. A tip we find helpful when searching for the best future employees is to look for those who truly share your passion. They may not have an MBA but that's perfectly okay if they have the drive to do well and passion for the given industry. Most candidates are capable of learning about a given trade, and are more likely to do so if they find it interesting.
Be honest with your employees
Share your goals, your strengths, and your weaknesses with your employees. Have weekly team meetings and address any ongoing issues or recent successes. Clear, honest communication with employees will help to better your startup as it will allow them to better understand what is being done right, and conversely, what potentially needs to be worked on. Withholding the truth from employees will only hurt your business and hinder your relationship with them.