Google AdWords is a pay per click advertising service that lets you create and run ads for your business on the Google network. Your ads are displayed along with search results when your keywords are used in someone's Google search. They will also appear under 'Sponsored Links' in the side column of a search page and may appear in additional places above the free search results. By using AdWords, you'll be targeting an audience that is already interested in your business. Adwords offers multiple advertising placement options as well as a variety of choices for ad formatting, including text, image, and video ads. Reports are available which help you track ad performance.
Google AdWords and your business
How a consultant can take your business from mediocre to marvelous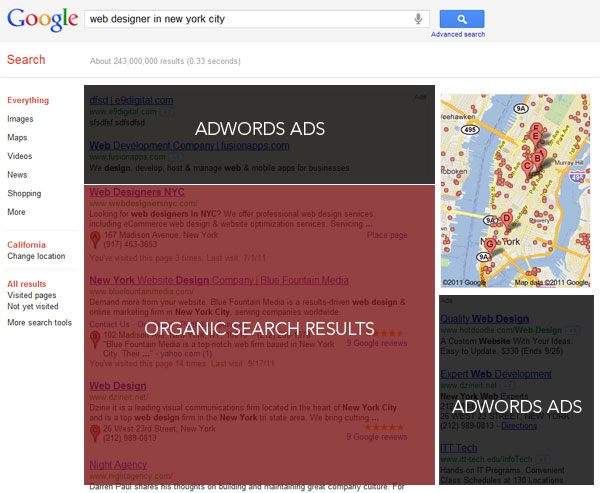 When you begin to use Google Adwords to advance your business, you will see how easy it is to setup an account; enter your credit card, add keywords and ads, and begin getting traffic to your website. In other words, it's easy to spend money on Google Adwords. For most businesses, the hard part is showing profits with Google Adwords!
5 ways an Adwords consultant can make your account more profitable:
Improved keywords.
An Adwords consultant can aid in making keyword combination choices to facilitate high search volume, low competition, commercial intent, and relevance. Choosing the best keywords for your Adwords campaign may look simple at first, but it's not! Improved keywords means more targeted visitors for your site while maintaining lower click costs.
Lower click costs.
The AdWords system determines a Quality Score for each of your keywords. It uses a variety of factors to measure how relevant your keyword is to your ad text and to a user's search query. A keyword's Quality Score updates frequently and is closely related to its performance. In general, a high Quality Score means that your keyword will elicit ads in a higher position and at a lower cost-per-click (CPC). Utilizing an Adwords consultant can improve your Quality Score, thus making your ads rank higher, all the while costing you a smaller amount per click! Lower click costs means less to pay per conversion, thus more money in your pocket.
More conversions.
When a visitor reaches your website, the game has just begun. Adwords conversion tracking shows what happens after a user clicks on your ad — whether they purchased your product or signed up for your newsletter. This information is invaluable! You'll be able to determine which keywords lead to the most desired actions. With the right tools, an Adwords consultant can help you maximize your conversion rates, site profitability, and site monetization. Your profits can begin to skyrocket!
Better targeting.
The Google Network is divided into the Search Network (which includes Google and other search sites like AOL) and the Display Network (which includes an assortment of websites that have joined with Google- YouTube, and specific Google properties, such as Gmail). Together, these networks make up thousands of sites that display targeted Google AdWords ads. How can you utilize this vast network to reach your intended customer base? An Adwords consultant will help your business advertising properly target ads and landing pages to the right sort of visitor. This way, you are reaching out to the prospects who will improve your bottom line.
Smarter decisions.
The difference between mediocrity and excellence is knowing how to analyze and use data to inform decisions. Using a consultant for choices within Google Adwords can mean the difference between goodness and greatness. A consultant can provide assistance with setting up, collecting, and interpreting your campaign-related data to make intelligent, cost-effective business decisions.