How to add +1 to your pages, and how that may help your site? Should you add this feature to your website? We have answers.
How does +1 work?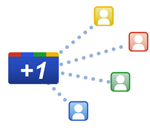 If you are familiar with the Facebook like button, you'll get this concept rather quickly. Once the +1 is clicked, Google's feature not only shares content within a user's network, but Google also reconfigures the search results for those within the user's network with the +1 content at a higher placement.
For example, let's say you click the +1 button on a costume company you traded with for Halloween, then someone in your network searches for costumes. This person will see a box beneath the results to that page saying that you +1'd with your name.
Should you add this feature to your website?
With the growing popularity of Google's social networking site as well as all the features that come with having a Google profile, it's a good idea to take advantage of the +1 opportunity. If your website's design can handle the addition of the +1 button, it's foreseeably worth the effort. All you need is for the right person to click on that button to be recommended to hundreds of users within her network.
How do I install the +1 button?
Examine your webpage to determine a place in the header and a place where you want the button to appear. The Official Google Blog offers detailed pictures, video and step by step information on how to install the button.