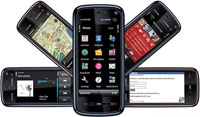 Morgan Stanley Research estimates sales of smartphones will exceed those of PCs in 2012. As the US grows more mobile, it's time to reassess how your small business uses this mobile market to increase sales. This article provides three usable techniques for utilizing mobile phones to generate sales leads.
In numbers…
420: the estimated number of smart phones sold in 2011
43: the percentage of US mobile phone owners with a smartphone as of October 2011
Email Newsletter using Text Message
To gain more email subscribers for your company newsletter, you can use text message signup to get customers when they're most excited. All you'll need is a text-message auto responder and a mobile- friendly sign up web page. Choose from many affordable services to handle the text message set up for you by googling "text messaging marketing" or "SMS campaigns". Select a word (such as SELL, FREE, or the name of your product) for potential subscribers to text to your chosen five digit number. Upon texting to your number, customers will receive a message containing a web link to a prepared mobile- friendly signup page.
This action will be quite easy to take; just remember to keep the form simple.
Text Message Mailing List
There are many advantages of SMS over email campaigns. For one, text messages are generally read within 4 minutes of receipt, compared to 6 hours for email. Also, 95% of texts are opened, compared to 20% of emails. Finally, signup rates with SMS are better because of the required opt- in confirmation. Customers are asked for permission at the moment they are ready to buy-in.
Though you are limited to 160 characters, you will reach more customers in less time. Remember to be considerate of these customers, though, with the number of texts you send. You don't want them to consider your text as spam and resent you or your product.
Using QR Codes
A QR code consists of black modules arranged in a square pattern on a white background. They are especially helpful in target marketing for mobile phone users. The code is pictured on a sign or product packaging, and prospective customers point their phone camera at the QR code image. He or she can then choose whether to view the QR link in the phone's browser, where it will direct them to your homepage. The QR code enables customers to load your web page or signup form easily and quickly.
As QR code awareness grows, phones will become more compatible with QR code readers.
Of course, the above techniques won't be helpful to you unless your website is mobile ready. If you're not familiar with HTML or CSS, get started by using a mobile website builder service like Mofuse, Wapple or Atmio.
It is suggested that you implement one of the above techniques at a time, measure it's effectiveness, and proceed from there. This tactic will allow you to measure your success and know which technique is most productive for your business.